Technology Help
Carl "CyberMan" Morrison
Business and Applied Technology Dept.

This is no Bull!
Hello,
I'm Carl Morrison and I have time 5th period to help you with technology...more specifically the Internet and Macintosh computers.
Please look at the list of FAQs (frequently asked questions) to see if this same problem has been solved and the solution noted. The FAQs are on the internet at: http://members.tripod.com/~MrMorrison/FAQs.html
I can schedule time to help you if you will fill out the following form and send it to my room.
Or, you can print the form from the Internet at: http://members.tripod.com/~MrMorrison/HelpForm.html, fill it out and get it to me. Of course if you can print a form off the internet, you probably have no questions or problems!
You may e-mail the following information if it is more convenient. My e-mail address is: Cptrtchr@hotmail.com
What I need to know:
Your Name ________________________________________ Your room number ____________
Today's Date___________ Telephone No. ____________ E-Mail: __________
Specific type of equipment you need help with: __________________
The problem:
(more)
What you've done so far to fix the problem:
I may have suggestions for you to try before I get there in person.
When I do schedule time to help you, please have the following items:
| | |
| --- | --- |
| For the Macintosh | The system disks that came with the computer |
| For the Printer | The disks (drivers) that came with the printer |
| If you are using Foolproof | The Foolproof password or Foolproof turned off |
| If you have a software problem | The original disks you installed. |
| | |
If your computer has to be removed from your room to be fixed, will you need a replacement? _____
Do you mind if I send a student (with this paper) to try and fix the problem? ____
(Some teachers may not feel comfortable having a student work on 'their' computer, and that is understood.)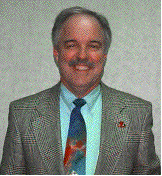 If you want a digital picture of yourself or your students, we have a connectix camera and the software...just ask. I you take student pictures, I have a handout titled, "How to use your digital picture once you have it on disk" that you can give students or use yourself.
(Did you notice how thin I made myself in the picture!) ---C.Morrison