Free Web-Based E-Mail
First time you go to hotmail.com, you will see this screen:
Since you do not yet have a 'Sign-In Name' or 'Password', you should move the pointer to SIGN UP NOW, and click once.
(In the future, you will always enter your "Login Name" and "Password" and click "Sign In.")
---
Next, the "Terms of Service" appear. You should read what you will eventually accept. Many wonder if this is really free...click the "Find" Netscape button above and have Netscape look for the dollar sign in the terms. If none are found, wouldn't you agree it is free?

When you are happy with the HTS, click "I accept"

---
The Registration Form
This is the only 'payment' you need to make...some information. Remember what you type or you won't be able to use your new toy. Put in valid information, like your name, because it becomes part of the information the reader of your e-mail receives. Note the limits to the Login Name.

If you already have an e-mail account elsewhere, I suggest you use the same login name and password here.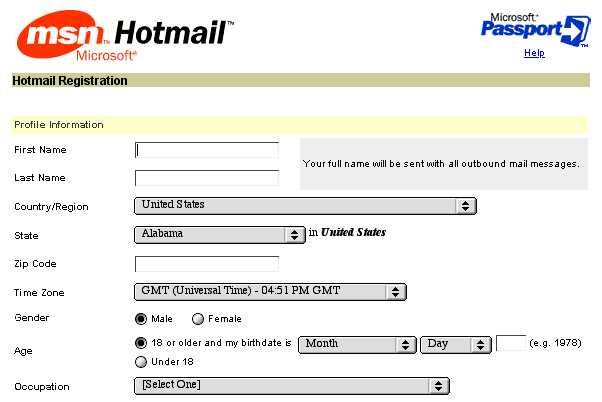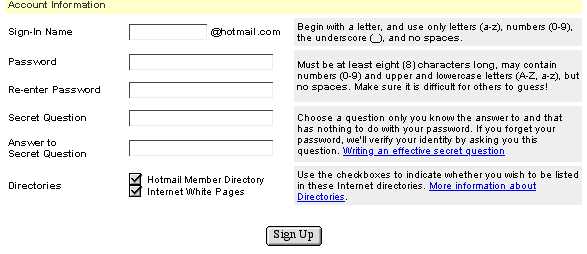 Do you like 'junk mail?' If not, at the bottom of the form, uncheck the 2 boxes because many junk mailers use e-mail directories for their mailing list. On the other hand, if you want friends around the world to be able to find your e-mail address, you should leave them checked...you decide.


---
---
When you are finished entering your information, scroll to the bottom of the form and click "Submit Registration"
---
Most Hotmail registrants receive this Error Message, which means someone else already has your Login Name at Hotmail. They give you some unused suggestions you may click, or a chance to enter another original login name. Make your selection and click "Submit New Login Name" again.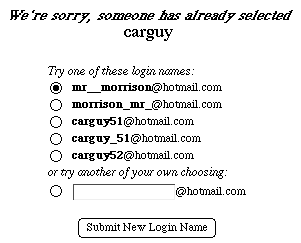 ---
Finally! You will receive your official login name. Since you might have tried a few by now, they want you to type in your accepted login name and password so you remember it. Also, WRITE DOWN BOTH YOUR LOGIN NAME AND YOUR PASSWORD (or you won't be able to read your e-mail)!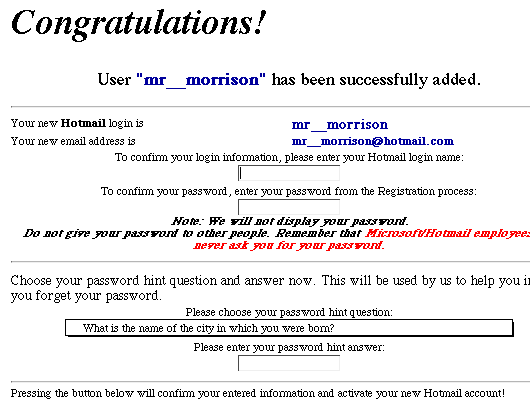 ---

You will be prompted to 'sign in' now, to see if you have mail. You will notice some mail from the Hotmail Staff welcoming you.

Somewhere in the process of signing on the first time, you will see a screel like the one shown below.

You can save yourself from receiving 'spam' (unwanted and unsolicited e-mail) if you DO NOT subscribe to any of these services...trust me.

Instead, scroll to the bottom of the screen and click "Continue" or whatever button allows you to continue without subscribing.


---
If you really do want to receive news, etc., click what you want. As you can see, near the "Continue" button you may change your selections any time.
---
You have successfully registered for Free Web-Based E-Mail. You can go to Hotmail.com from any internet-connected computer in the world now and log on and send and receive e-mail. This is not connected in any way to this classroom nor to the school...it is Web-Based!



To see a second tutorial on Hotmail, click here: http://members.tripod.com/~MrMorrison/HotmailTutor.html