Tamarack Beach Resort
April, 1998
Carlsbad, California
Spring Break, 1998, we spent here. Room 217 and our view (Apple 200 Camera). Not far away are the famous Carlsbad Flower Fields:
I did my regular beach walks, but found the beach much more 'giving' this time. Much debris had washed up on the beach during the many el Niño storms and I picked up some walking sticks...nine by final count.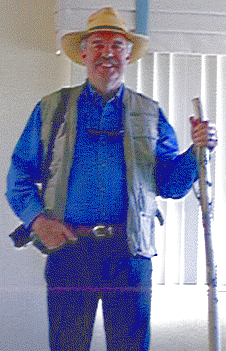 Sue did some quilting, relaxed, and enjoyed time with her sister Carol.
They have renovated the mineral springs in Carlsbad and sell the water and give massages in an old building on the site of the well. A history of the springs can be found on their brochure:
The old train station in town still stands, but is now a visitor's center:
A new Coaster station is one block north of the old station, but none of the many Amtrak San Diegans stop there, just Coaster commuter trains which run from San Diego to Oceanside I believe.
More than beach walks, this time I did lagoon walks:
Good bye from Carlsbad (which I think should be renamed Carls-not-so-bad)