Presenting the Premier Issue of....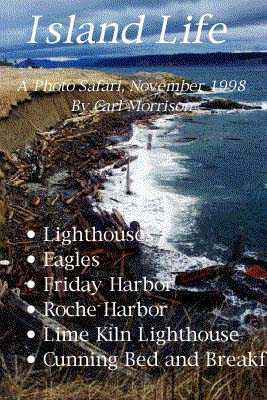 Carla and I left Orange County airport Thanksgiving morning, 1998, on Reno Air.
Paul picked us up at Sea-Tac Airport in Seattle and took the both of us to Anacortes to board the ferry for Friday Harbor, San Juan Island, Washington.

[In this web page, click any thumbnail photo with a colored border once for a larger image]
[click 'BACK' in your browser to return to the main page]
On the way, outside Anacortes, we drove slowly by the refining plant that had blown up the previous day, killing 5. We could see a chared tower.
At the dock of the bay we got in Lane 4 and waited a few minutes to board...the ferry, Hayak, was already in port...
Paul had planned the trip perfectly. It wasn't very crowded and we went upstairs to the passenger lounge and found a window bench.
Paul had brought a pillow knowing he could get some rest on the 1 1/2-hr. ride to Friday Harbor.
Carla read her novel

and I pretty much walked around the ship the whole time seeking photos.

It was cold outside only if you were in the wind and the large ferry had plenty of windows and outside areas protected from the wind. On the aft portion a girl was playing her flute which made the beautiful northwest scenery seem like a video with background music.
In the cafeteria on the ferry, I bought the requisite coffee mug with the ferry, Tacoma, on the outside. I picked up the free travel magazines and computer magazines which always appear in the lounge. In one I later read how to "Spot the Local or how to blend in as a tourist," by Jeff Rosen in the "Springtide 1998" magazine. The coffee mug made me realize that's the first thing that defines a tourist.
Other deciding factors include:
Footwear: Black high-top rubber boots equals local, for fancy occasions, a shiny pair with red stripes around the tops and hosed off. White sneakers = Newcomer.
Facial hair: Beards, local, goatees, mainland. Mustaches, big and bushy, islander.
Clothing: Head-to-toe GoreTex, visitor.
License-plate frames marked "San Juan Islands" is local, Shirts withsame, visitor.
Driving habits: Stopped talking to someone going in the opposite direction, local. Stopped starring at eagles, visitor.
Ferries: Noticing wildlife and buying a souvenir coffee mug, visitior. Asleep, local.
Sue and Matthew had come a week earlier and had spent 2 nights in the Empress Hotel in Victoria, Canada.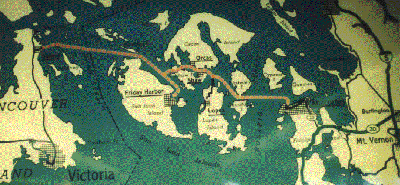 Included with the room were tickets to the Leonardo da Vinci show at the Royal British Columbia Museum.
They had also visited the Buschart Gardens before returning via ferry to Friday Harbor, the last US port of call for the ferry sytem.
Since I knew when they were leaving, I went to the web cams for the Friday Harbor parking lot to see if they were in line, and later to the camera showing the harbor and I saw them leaving! Check out the cameras now...remember to click "back" on your browser to return here:
http://www.islandcam.com/html/fridayhrbr.html
http://www.ferrycam.net/html/friday_harbor.html
Friday Harbor welcomed us with open port:

We knew we were getting near 'home' when we could see Cattle Point Lighthouse, just across the road from their house.


On the drive from Friday Harbor to Cattle Point, Paul, even though driving, saw an eagle between the lighthouse and the house.
Arriving at the Cattle Point house,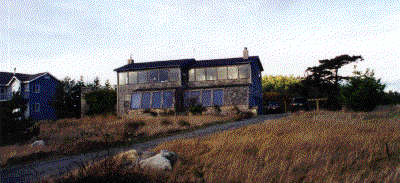 Carla, Carl, and Paul met Matthew, Sue, and Andrea and our little group was back together again.

That evening, Thanksgiving, we went back into town (20 minutes) to the Friday Harbor House, where we had an excellent Thanksgiving dinner which lasted about 3 hours.

Photo Credit: Friday Harbor House
This was a new hotel, one of three "Northwest Waterfront Inns."
Friday, Sue had already told me by phone earlier, was a local craft fair at the elementary school in FH. I enjoyed the photography and bought a photo of the Roche Hotel De Haro in winter, where we planned to visit later in the day, by Melanie Hester who lived on Henry Island across from Roche Harbor.

Photo Credit: Melanie Hester
She had 2 other nice photo cards, one of her home at Christmas...through the window of her candle and hurricane lamp lighted home.

Photo Credit: Melanie Hester
A third photo was a panorama of 6 deer outside her window.

Photo Credit: Melanie Hester
Finally, except for a round of eggnog lattes, was a 'San Juan Islands 1999' 'Artists in Action' calendar, all water colors by local artists. The proprietor of the booth was the artist of the January painting, Teresa Smith. She obliged my request for her to sign the page. Matthew showed interest in the calendar for use in art projects in his 5th grade class.
After the bazaar, we had lunch and shopped in town before traveling on to the north end of the island to Roche Harbor. There we enjoyed the hotel lobby where we observed Theodore Roosevelt's signature in the guest book and took pictures of the harbor.



Paul had alerted me previously to the Roche Harbor Cam on the internet. I calculated the angle and found the cam:
Click here to see what the camera sees now: http://www.islandcam.com/html/roche.html
Back home we joined Paul who had been working to prepare for his European trip for work, Wall Data, the following morning, and had chili for dinner as we observed the evening arrive over the San Juan de Fuca strait we could see from the upstairs dozen windows on Ang and Paul's house.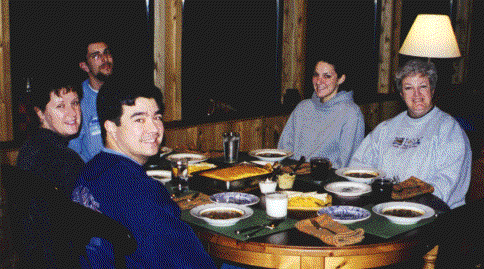 Matthew and I took a quick walk to the light house in front of their house before nightfall.


We had walked there yesterday evening together since that had been the only day Matt and Sue hadn't experienced rain.

As it turned out we had partly sunny weather and no rain the 2 to 3 days Carla and I were on the island. Saturday Paul left early for the San Juan airport for a short flight to Seattle, then to Copenhagen.
After breakfast, Matthew and I took the car for a day of photographing. We first went to nearby South Beach where we spotted an Eagle on the way in,

then further saw him at the end of the driftwood beach then he joined his mate on a rock farther down the beach. Matthew stalked them for photographs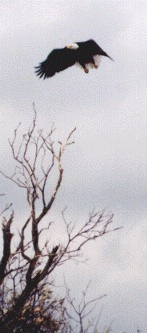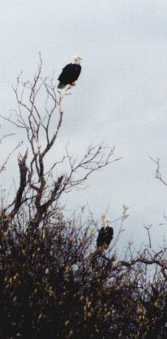 while I searched for a walking stick on the beach.

Next we drove to False Bay and photographed barns on the way.
We saw another eagle couple in a field near some cattle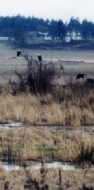 between False Bay and Lime Kiln Lighthouse where we took more photos.




After lime kiln, we went to Friday Harbor for photo development of the eagles and lunch at Mi Casita restaurant.
One-hour photo in FH takes 2 hours, so after lunch we went back up the hill to Friday Harbor House and watched the ferry, Evergreen State' leave

and pass an incoming ferry AND Kenmore Air floatplane:

then drove north and stopped at the San Juan Vineyards which is housed in Schoolhouse No. 22, a one-room schoolhouse built in 1896. We tasted a 1994 Fume Chardonnay, a 1997 Gewuvztraminer, and a 1996 Johannisberg Riesling. We decided on the Fume Chardonnay for the evening pork roast meal Andrea was preparing. We drove on north to Roche Harbor but were unable to find the mosoleum, but the low evening sun gave us some good shots. Remembering what I'd learned over 20 years ago from Laguna Beach photographer and author, Tom Grimm, I shot verticals for future magazine covers (don't I wish):

Drove back to FH and picked up the eagle pictures.
Driving back to Andrea's, we saw Mt. Baker golden in the late afternoon sun with snow as low as we could see.
Sue and Andrea were working with jewelry and the kids and I dozed, read, and enjoyed the quiet life until dinner.
Dinner with newly purchased San Juan wine was perfect and after dinner Matthew and Carla built a fire and the peaceful evening continued.

We had to get back to the real life after out beautiful vacation, but we still enjoyed the trip back home which included one final ferry ride. Spacious booths and tables are provided upstairs for the car drivers and the 'walk ons.'

Andrea, Carla, and Sue.
---
Hope you enjoyed the travelogue.

Any comments or suggestions are appreciated by Carl Morrison at CmptrTchr1@aol.com
[Top of the Page]