http://members.tripod.com/~MrMorrison/keyboarding.html
---
---
Cypress High School
Business and Applied Technology Department
9801 Valley View St., Cypress, CA 90360 (714) 220-4194
When we say, "Take a Career Class," we mean BUSINESS!
---
---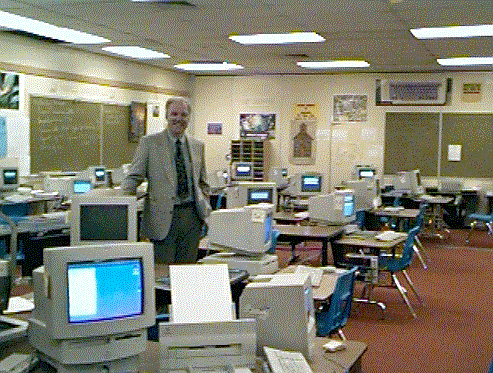 Keyboarding
Prerequisite: None
Keyboarding satisfies the 'career' graduation requirement.
Keyboarding is the most popular course in our business depatment, and one of the most popular elective courses here at Cypress. These students realize the importance of knowing how to type and that typing is the gateway to computers. Keyboarding students will use a Macintosh or IBM computer using office technology to complete business-related tasks.
The first and foremost task in this class is to learn to type accurately by "Touch". "Touch Typing" means being able to type without looking at the keys. When students have learned to type by touch, they will complete drills and computer analyses on Mondays to improve their speed and accuracy followed by 5-minute timed tests to measure their improvement. Tuesdays through Thursdays will be production work when students type business letters, reports, tables, and business forms such as invoices, purchase orders, and memorandums. Fridays will be a test on the typing and formatting skills they have covered.
When students can touch-type and appropriate speed is attained, students will learn Word Processing. The last semester, students will learn basic Desk Top Publishing.
---

Grading Scales:
Timed Writings
Five-minute with 5 or less total errors
25% of total grade
| | |
| --- | --- |
| First Quarter | 100% Goal: 25 words per minute |
| A | 23 or more words per minute |
| B | 20 to 22 words per minute |
| C | 18 to 19 words per minute |
| D | 15 to 17 words per minute |
| F | 14 or less words per minute |
| | |
| --- | --- |
| Second Quarter | 100% Goal: 30 words per minute |
| A | 27 or more words per minute |
| B | 24 to 26 words per minute |
| C | 21 to 23 words per minute |
| D | 18 to 20 words per minute |
| F | 19 or less words per minute |
| | |
| --- | --- |
| Third Quarter | 100% Goal: 35 words per minute |
| A | 32 or more words per minute |
| B | 28 to 31 words per minute |
| C | 25 to 27 words per minute |
| D | 21 to 24 words per minute |
| F | 20 or less words per minute |
| | |
| --- | --- |
| Fourth Quarter | 100% Goal: 40 words per minute |
| A | 36 or more words per minute |
| B | 32 to 35 words per minute |
| C | 28 to 31 words per minute |
| D | 24 to 27 words per minute |
| F | 23 or less words per minute |
Production Work
from Checkoff Sheets of Business Documents in the Text
75% of the total grade
| | |
| --- | --- |
| Letter Grade | Points out of 10 per test page typed |
| A | 9 (90%) |
| B | 8 (80%) |
| C | 7 (70%) |
| D | 6 (60%) |
| F | 5 (50%) or less |
---
Following the successful completion of this class, students may elect any of the following business courses at either the high school or community college:
| | |
| --- | --- |
| Word Processing | Introduction to Business |
| Computer Applications | Accounting |
To contact the instructor, write e-mail to: CptrTchr@aol.com